Teens
Hey Mom and Dad!  This section is for you but it's about your teenager.  Who we know you think about constantly.  How many of you worry about the long list of "oh dears!" for your budding young adult!  We at KSG understand there are SO MANY things to think about, worry about, and prepare your teen for in life!  Their grades, activities, sports, friends, social media, hygiene, cleaning their room, SATs, and the all time favorite of 'what is for dinner tonight?'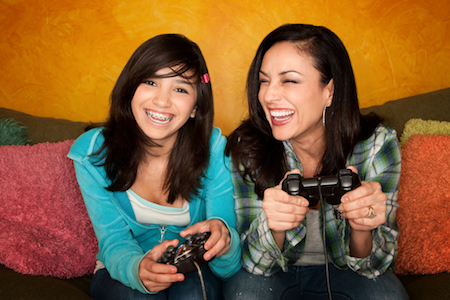 Lets not forget about the possibility of your teen coming home and talking to you about their best friend's new tattoo...and then showing you theirs! Ugh.  So this section is for all you parents who think, constantly, about everything and want your teen's life to be as easy and great as possible. [And, it is also for you parents who are more laid back than the rest of us and don't think about your teen constantly!  Parents who have figured it all out. Do you exist???]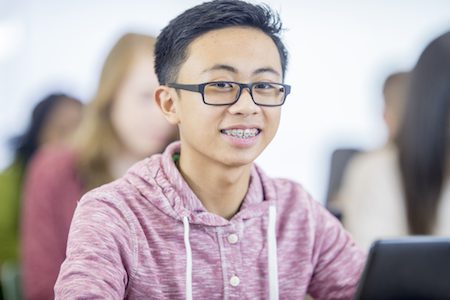 With that laundry list of things to think about, we at KSG Orthodontics want to do all the thinking about your teen's smile.  Braces? Do you do clear braces? How long will they be on? Does he REALLY need them? Can she have Invisalign? What happens if I don't do it now?  Did I wait too long? What about senior pictures? Will Dr. Kulkarni make my child wear a headgear? (No, she won't. Unless you want Dr. K to try and keep your little girl away from that senior who asked her to a movie last night.)  Mom, Dad, we get it!
Every Teen Has Different Needs and Wants
We will talk to you about options, what will be the best for your teen's bite, smile, face, and what will be the most efficient. This is not a "One Size Fits All' kind of orthodontic office.  We will customize your child's care to give you the BEST RESULT POSSIBLE, always. Invisalign? Let's talk about it. Braces and rubber bands? We can discuss. It will be what is best for your teen.
At your first appointment you will meet Dr. Kulkarni and team and have an opportunity to discuss the best options for your teen.  We will take pictures, digital X Rays, and do a thorough exam with measurements to help explain how we can best help your child's face, smile, and jawline.   We want your child to have a confident and radiant smile, for life!
Dr. Kulkarni has spent years working on her skill set on not only providing the best orthodontic care, but also understanding how to make life better for people in general!  She LOVES being asked questions and takes personal pride in her ability to relate to teens well- hey let's face it! She is kid herself (in a much older body with a super nerd-mind).   So whether your teen is a super-sport, brainy kid, superstar, poet - or a super combo of it all- you can feel confident that Dr. Kulkarni will have his or her best interest in mind.
Discuss the Best Options
At KSG Orthodontics, we have your teen covered. In fact, we are thinking about their first job interview after college (Harvard of course- or Pitt!) that your child walks into, smiles, lands the job…….and then moves out of your house and starts working so you can retire!  We have YOU covered, Mom and Dad. Call us now so we can meet and discuss your teen's Invisalign or metal or clear braces options. Call us today at 412-409-4444 to schedule your teen's complimentary consultation!